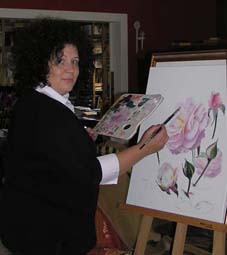 .
Intervieuw with Doris Joa, who is
an artist from Germany.
She has a great passion for nature and its beauty.
She started with painting in 2002 and is mostly
self-taught and has learned through books
and some DVDs.
.
.

.
"My mediums are watercolor and oil. One of my
special favorite subjects are Roses and figurative work.
I paint roses and also other flowers in oil and
watercolor,  like Pansies, Rhododendron,
Peonies, Daisies and Tulips"
.

.

.
"My goal is to paint in romantic realism.
I am also doing figurative work, portraits, still lifes and
in 2005 I have started a new series of colourful
Horse paintings in oil. I also have started with doing
postcard paintings in 4″x6″ and other small studies"
.
.

. 
"I am using only highquality watercolor and oil paints.
My watercolors are painted on 140 Lb hotpressed or
coldpressed watercolor paper (mostly Arches or Lanaquarelle)
and I am using colours mostly from Schmincke, although
there are tubes from Winsor & Newton and
Daniel Smith in my box"
.
.

.
  "Recently I have started with also using Aquabord
(Textured Claybord) from Ampersand.
I like the textures and the possibilities on the bord.
And no glass is needed to protect the painting
when it will be framed"
.

.

.
"Oil paintings are done on stretched canvas or
hardboard panels. I am using colours from Rembrandt,
M. Gamblin, Old Holland and/or Winsor & Newton.
For medium I do not use any turpentine,
I use only walnut oil or walnut alkyd medium
both are from M. Graham"
.
.

.
"I have a great passion for nature and her beauty and
try to capture this in my paintings.
The sunshine, the shadows, the light and the glittering
of a raindrop I find most captivating"
.

.
"I love it when people tell me that when they view my
paintings they can smell the flowers, feel the velvet
of the rose-petals and have the feeling
of standing in a garden"
.